Hello all, I'm back with part two of how to wear leggings. If you missed part one which was all about the basics of styling leggings focusing mainly on black and leather look leggings, you can go back and check that out here. In today's instalment I will be delving into how to style patterned leggings. As I mentioned in part 1, I own 4 main pairs of leggings which I'll base all my looks around. Obviously the plain black legging and the leather look which I worked around in part 1. The leopard print legging and a galaxy print legging are what I'll be focusing on today.
Using the basic principles I use to style these two types of leggings you should be able to switch them out for any other patterned legging you have in your closet. I'll also include a few links to similar leggings on the web at the bottom. You don't have to get the exact same pieces I have. Instead identify what about the piece makes it work and look for similar pieces within your wardrobe or in stores. Now back onto the styling…
Patterned Leggings
The two easiest ways to style patterned leggings is; to either go the all neutral look or pick colours from the leggings and chose matching pieces based on those. An example of the all neutral look would be pairing my nebula tights with a white tee, white sneakers and a black leather jacket. To make the look even more edgy layer on some arm candy and a layered necklace. Substitute the tee for a button up shirt slightly unbuttoned or a cropped sweater over a black singlet and some black boots for another great all neutral look.
For a more dressy look you can't go wrong with pairing your patterned leggings with a white button up shirt under a black sweater with the tails of the shirt peaking out the bottom. You can then accessory with a sweater chain or statement necklace that sits under the collar of the shirt and some neutral pumps.
All Neutral Look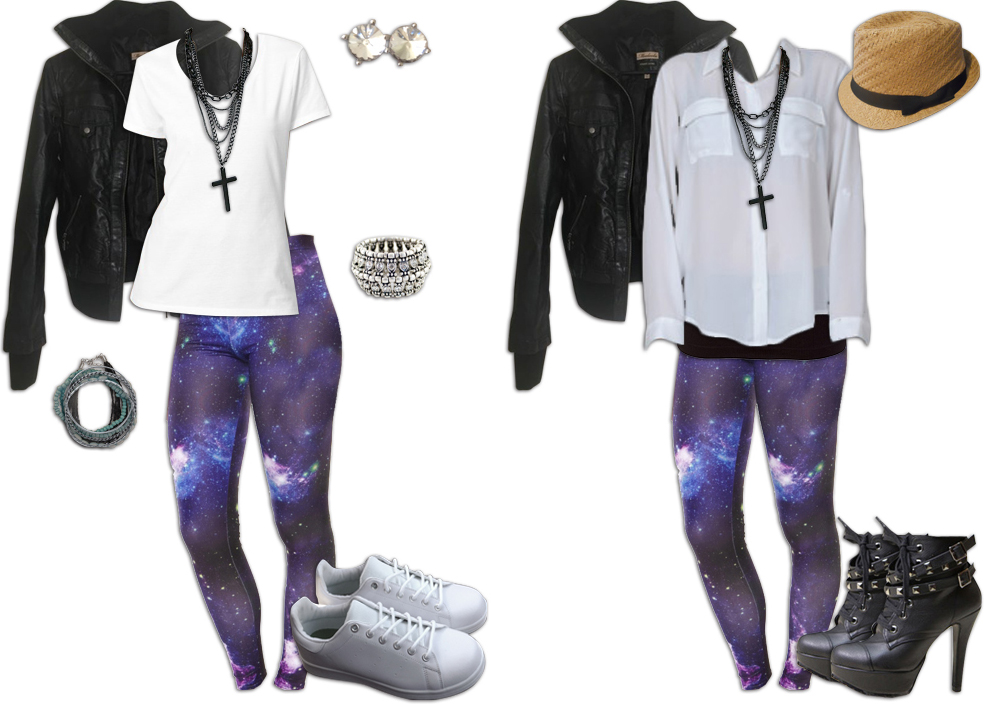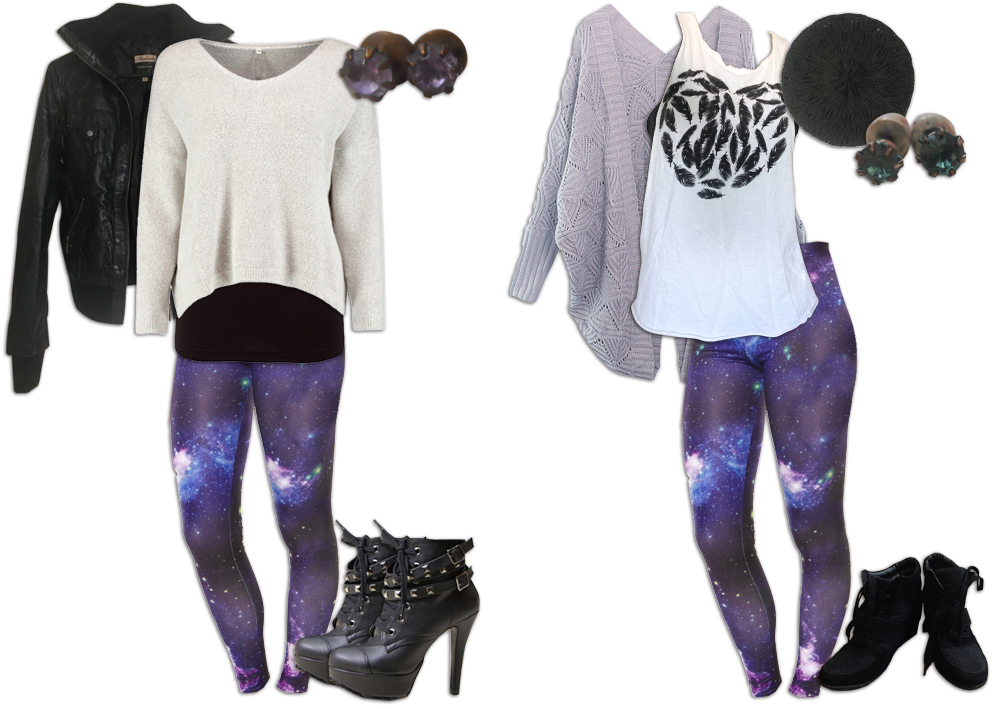 More Dressy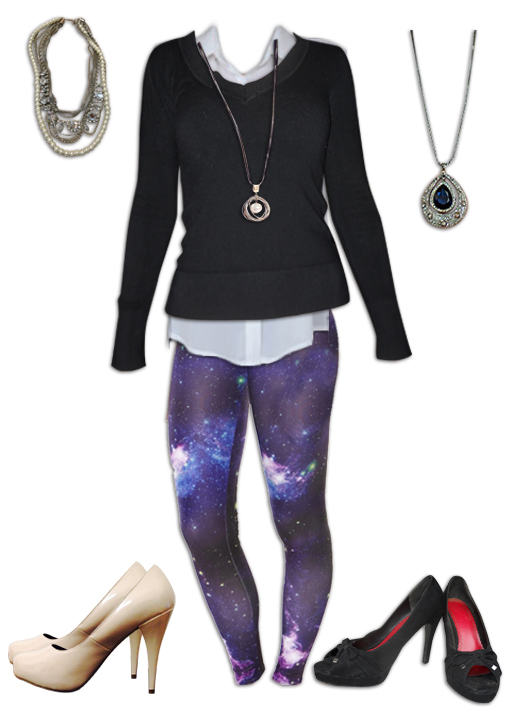 If you wanted to go the more colourful route, simply pick out a colour from the pattern of your tights like I have done for this outfit. You can see that within my nebula leggings there is a really subtle mint colour in some of the stars. I like to choose the less obvious colours because it gives the outfit more variance and interest. You could go for a navy blue which is the colour that makes up the majority of the leggings but I find it tends to look too matchy-matchy for my taste.
When choosing your pairing colours, don't feel you have to get an exact match of the colour and shade that is in the leggings. A pastel version of the colour can still look really nice together even if the colours in your leggings are more a bright hue, same goes for a more muted versions of a colour. You just have to work with what you have and what pieces you can find in stores. I actually prefer when the shades of the colours aren't exact because again it creates more interest and less matchy-matchiness.
Colour Picking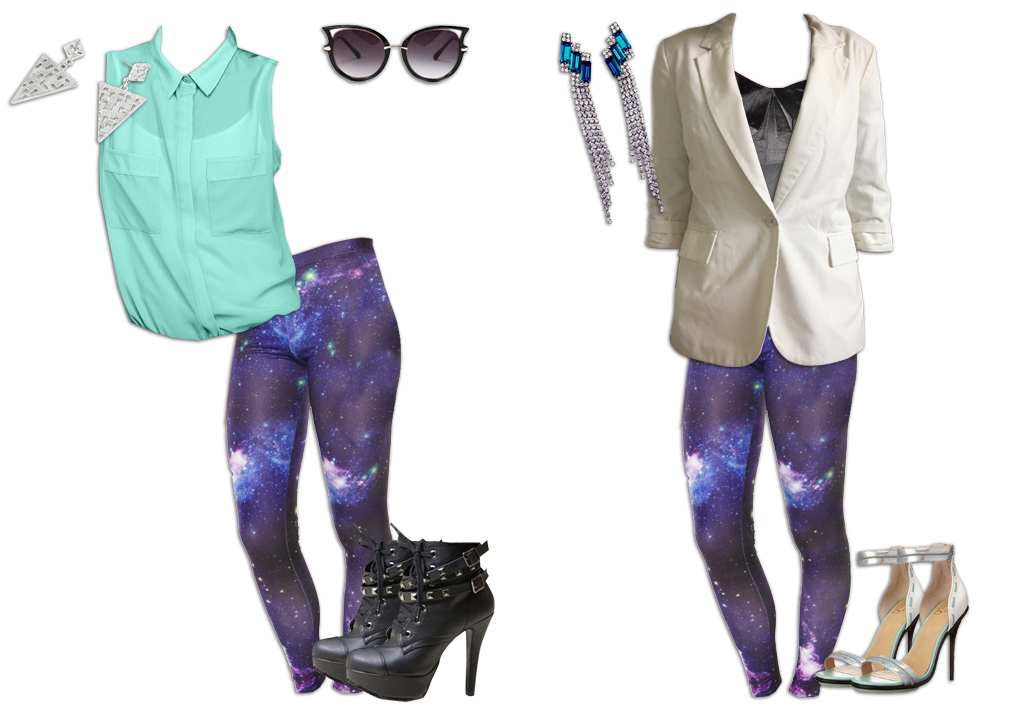 If you are in favour of covering your butt when wearing leggings then a good trick is to tie a long sleeve shirt around your waist. This only really works for really casual slightly edgy looks like the one below but is unique way to wear crop tops with leggings. If you don't mind showing your butt then you can get away with crop tops and leather jackets. Stripes are great place to start when trying to pattern mix. They go with any pattern, just make sure that one patterns is bigger than the other. My nebula leggings have a bigger pattern so they look better with small stripes as opposed to really wide big stripes.
Shirt Around the Waist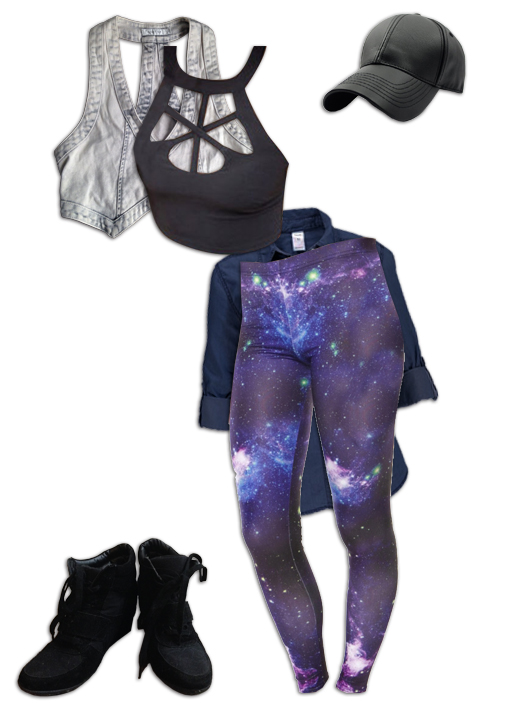 Pattern Mixing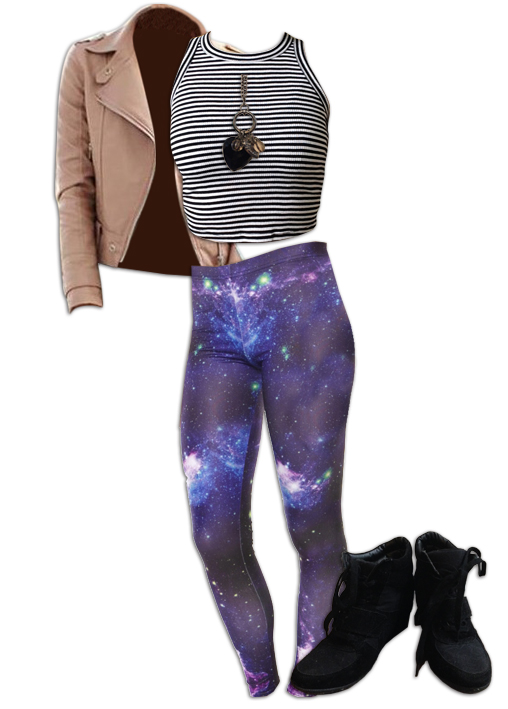 With animal print you can get away with a bit more as you can use them as neutrals themselves. You can then choose pretty much colour to pair them with. For leopard print, I really enjoy pairing them with red tones. Chambray again is really versatile and creates an excellent casual cool look. As a pseudo-neutral, leopard print is also relatively easy to pattern mix. I managed to get to three levels of patterns using leopard print, stripes and floral. It works because the smaller floral print has a very similar yellow colour as the leopard print. Stripes go with everything so that's a safe bet there. I'm not sure if it's quite a pattern mix when adding a graphic band tee but it has a similar effect.
Animal Print with Red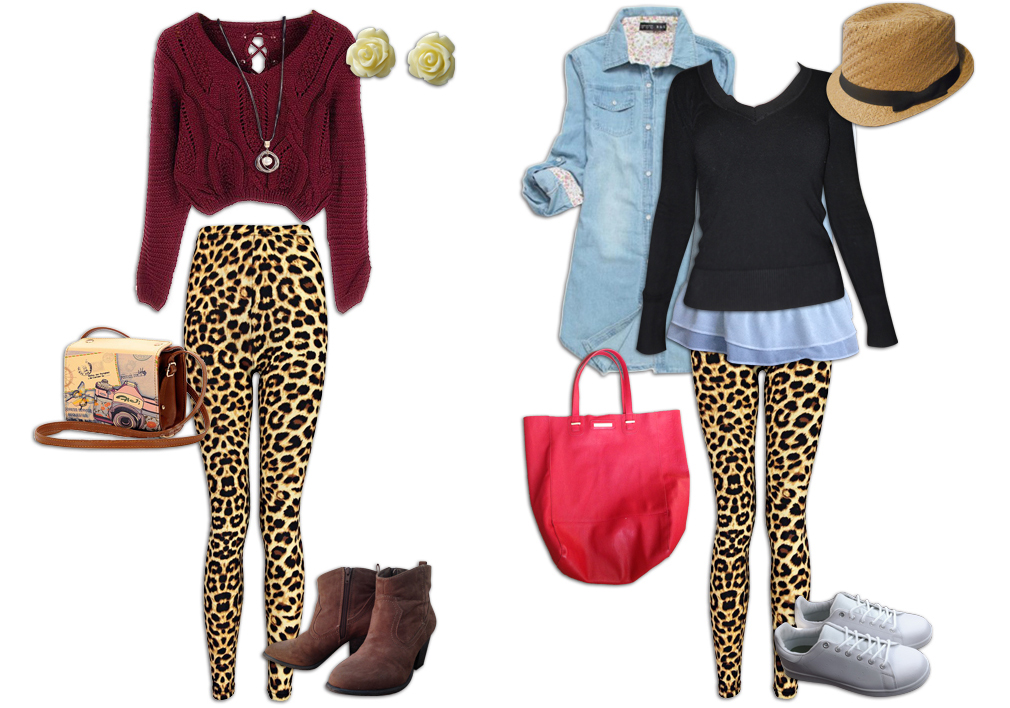 Casual Cool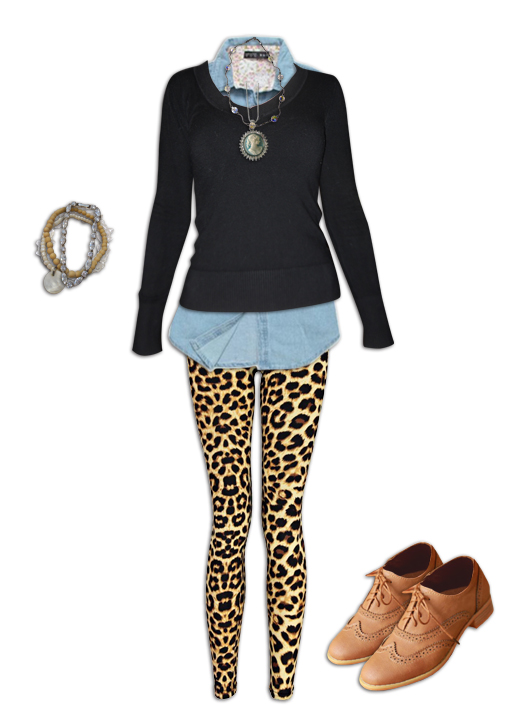 Pattern Mixing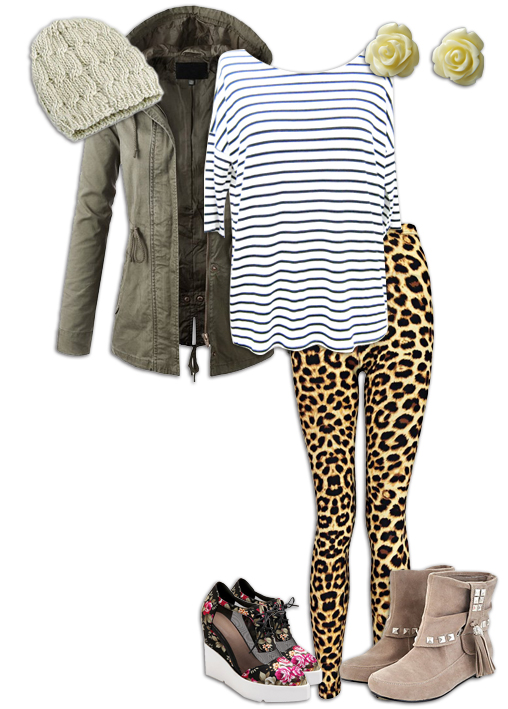 Graphic Tee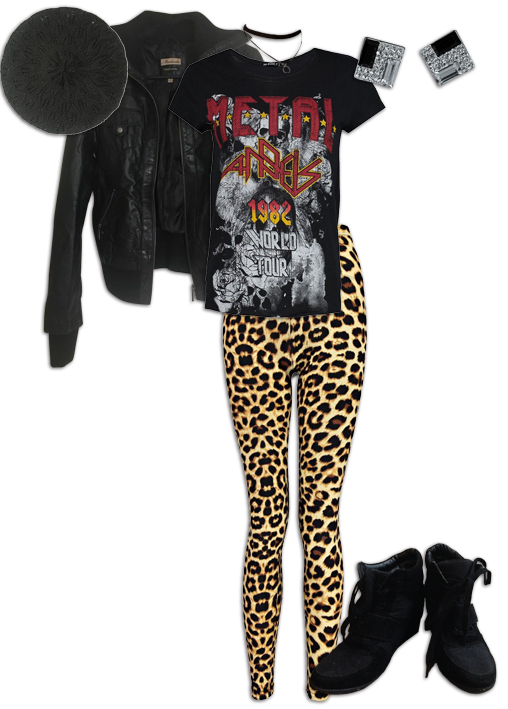 You can of course still go all neutrals with leopard print as well. I think neutrals often gives it a more sophisticated and classy look. White and beige especially give the leopard print a more mature feel. I stuck with the longer outer pieces like the boyfriend blazer and long cardigans because they add to a more refined aesthetic.
Leopard Print and Neutrals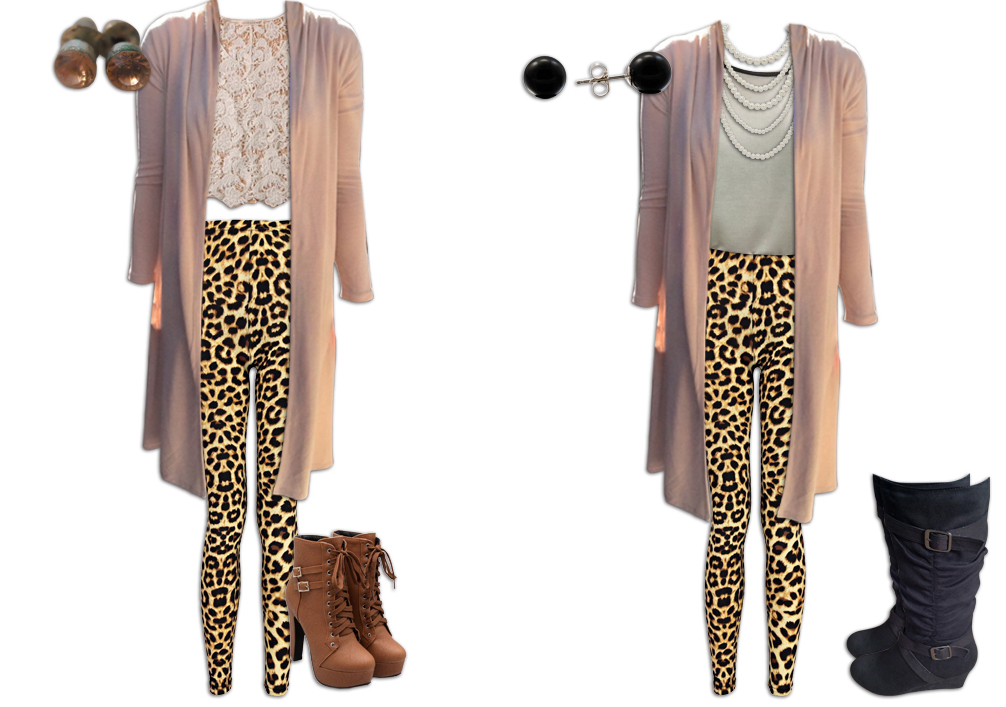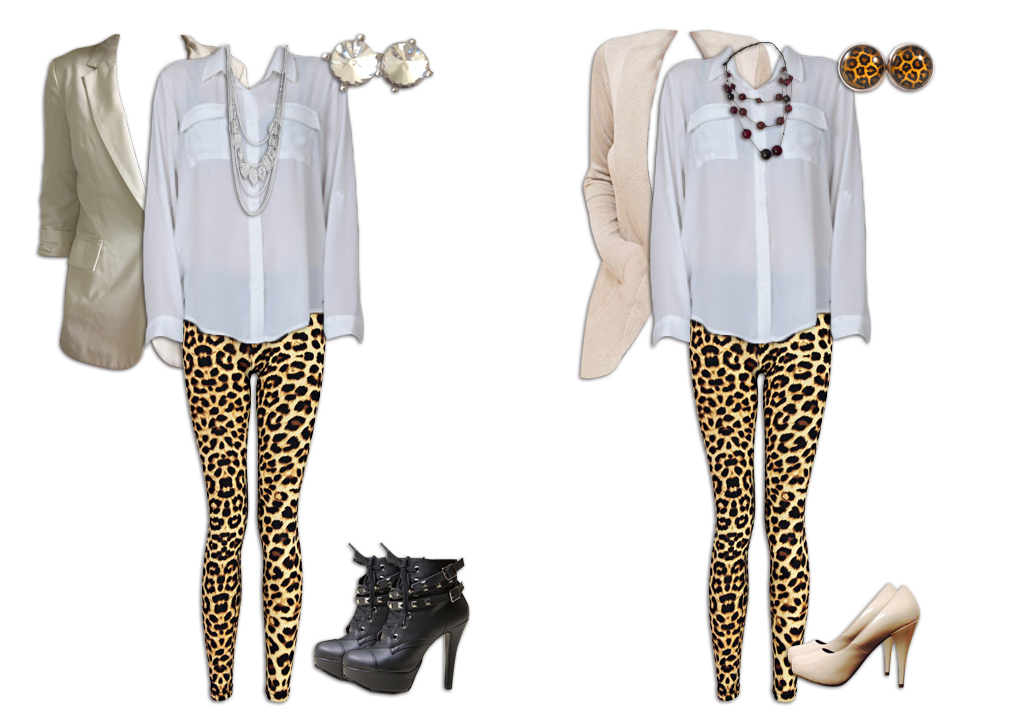 I bought my leopard print leggings from Boohoo and they are this beautiful soft almost velvety but not heavy material. Boohoo no longer have the exact same pair in stock. They do have a similar one which I suspect would be the same fabric. Boohoo's leopard leggings are linked to on the bottom left. My nebula leggings were a lucky almost new find at a thrift store. They are branded BamBam which I have discovered are a Surfstitch brand. I have linked to it on the top right. Black Milk have very similar versions but are a little pricey, instead you can get them on eBay for under $10. I can't vouch for the quality from these particular buyers though. It's up to you which one you want to go for or you can use whatever you have at home.