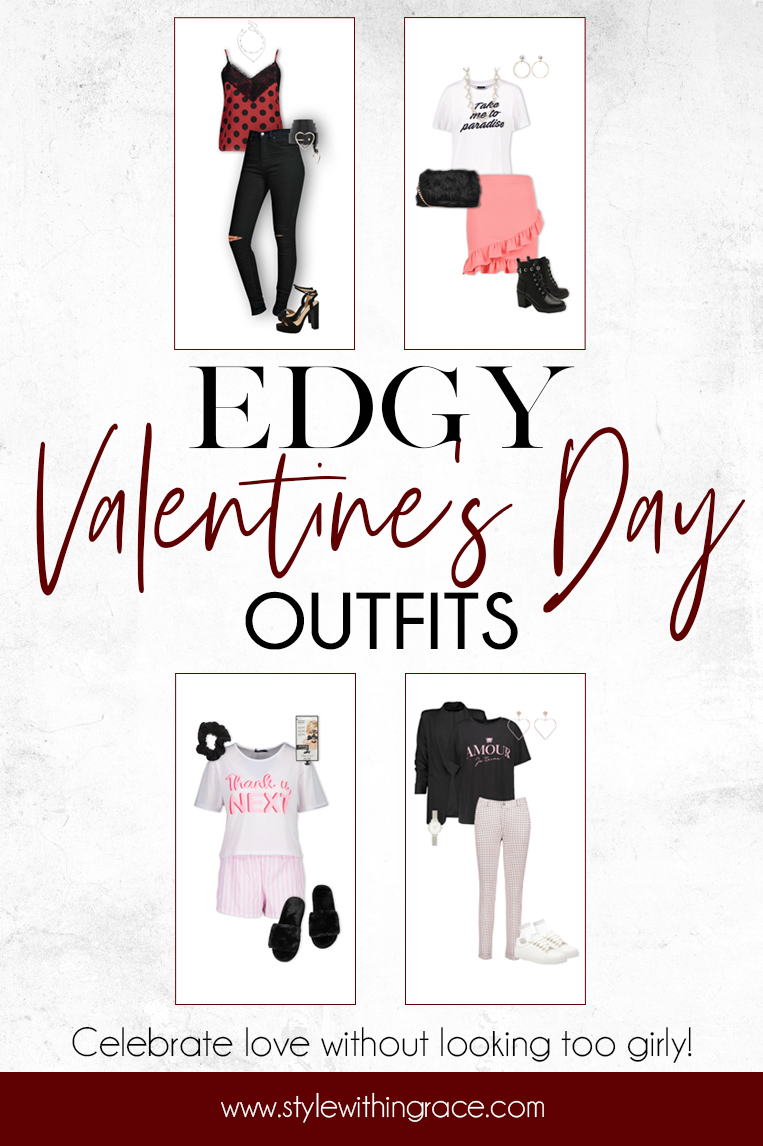 I enjoyed putting together outfits for last year's Valentine's Day post so much that I knew I had to do it again. This year I wanted to do something a bit different but I wasn't sure what. Without a real plan, I just started putting together outfits and they all turned out to be more on the edgy side. Just like that my theme emerged. I also decided to experiment with styling pink and hearts in a new way. They are not just for the girly girl! So without further ado, here is a collection of edgy Valentine's Day outfits that help you celebrate the day of love without looking too girly. Who says you have to be a girly girl to celebrate Valentine's Day!
Outfit 1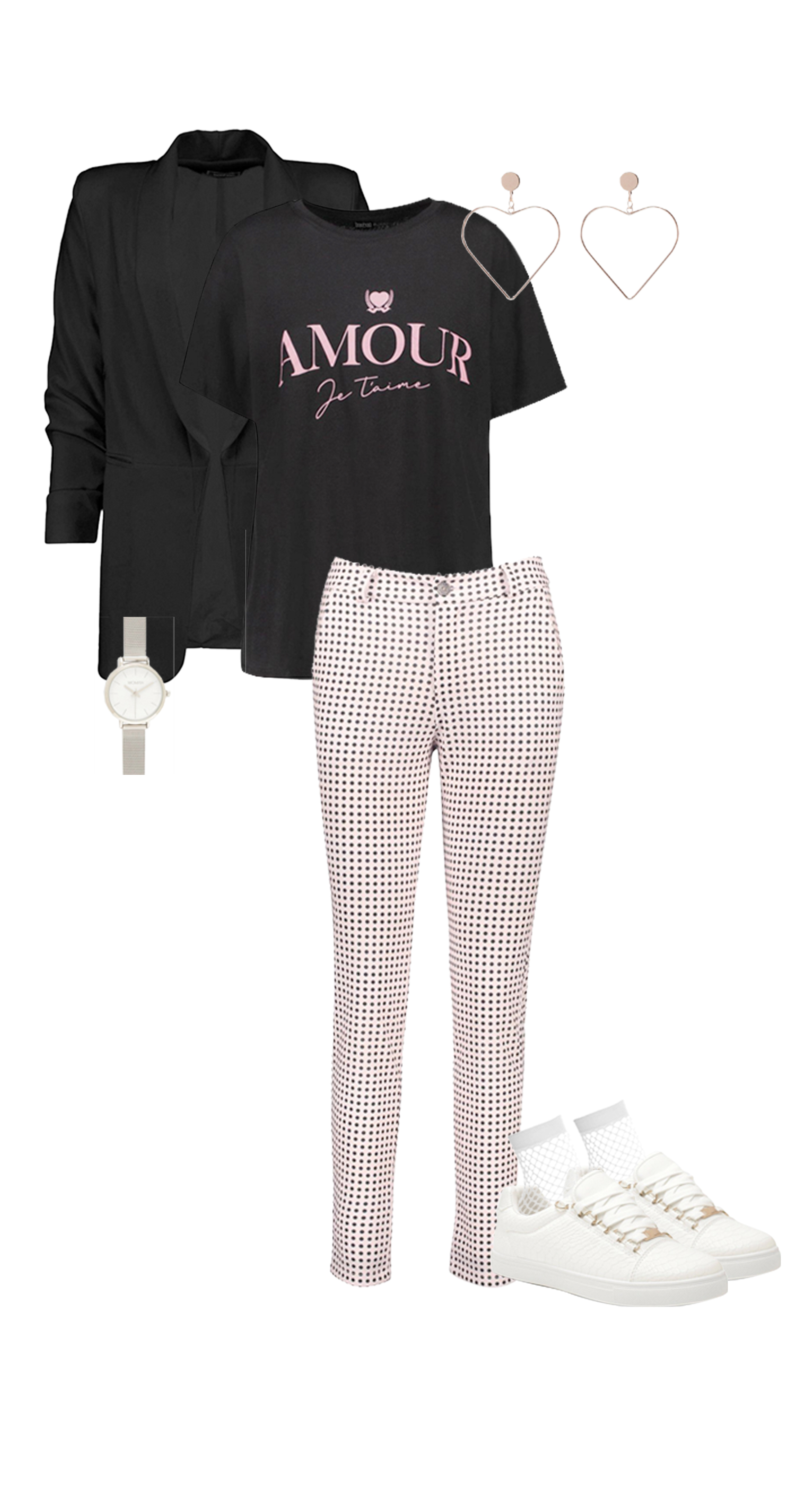 This was the first outfit I put together and it's possibly still my favourite! I started with the blush pink polka dot trousers and added an amour slogan t-shirt with a drapey black blazer over the top. The blush pink accents are toughened up by all the black in the outfit. I added in another nod to Valentine's Day with the rose gold heart earrings but continued to edge up the outfit with sneakers paired with white fishnet socks. Lastly I couldn't resist adding a statement watch which ups the bold factor as well. Despite being dressed down with white sneakers this look remains very polished and put together and could be worn on any number of dates. Where would you wear this?
Shop the Look
Tall Amour Slogan T-Shirt
Spot Pink Tailored Trouser
Ruched Sleeve Blazer
Croc Lace Up Flat Trainer
White Fishnet Socks
Heart Earrings
Classic Metal Mesh Bracelet Watch
Outfit 2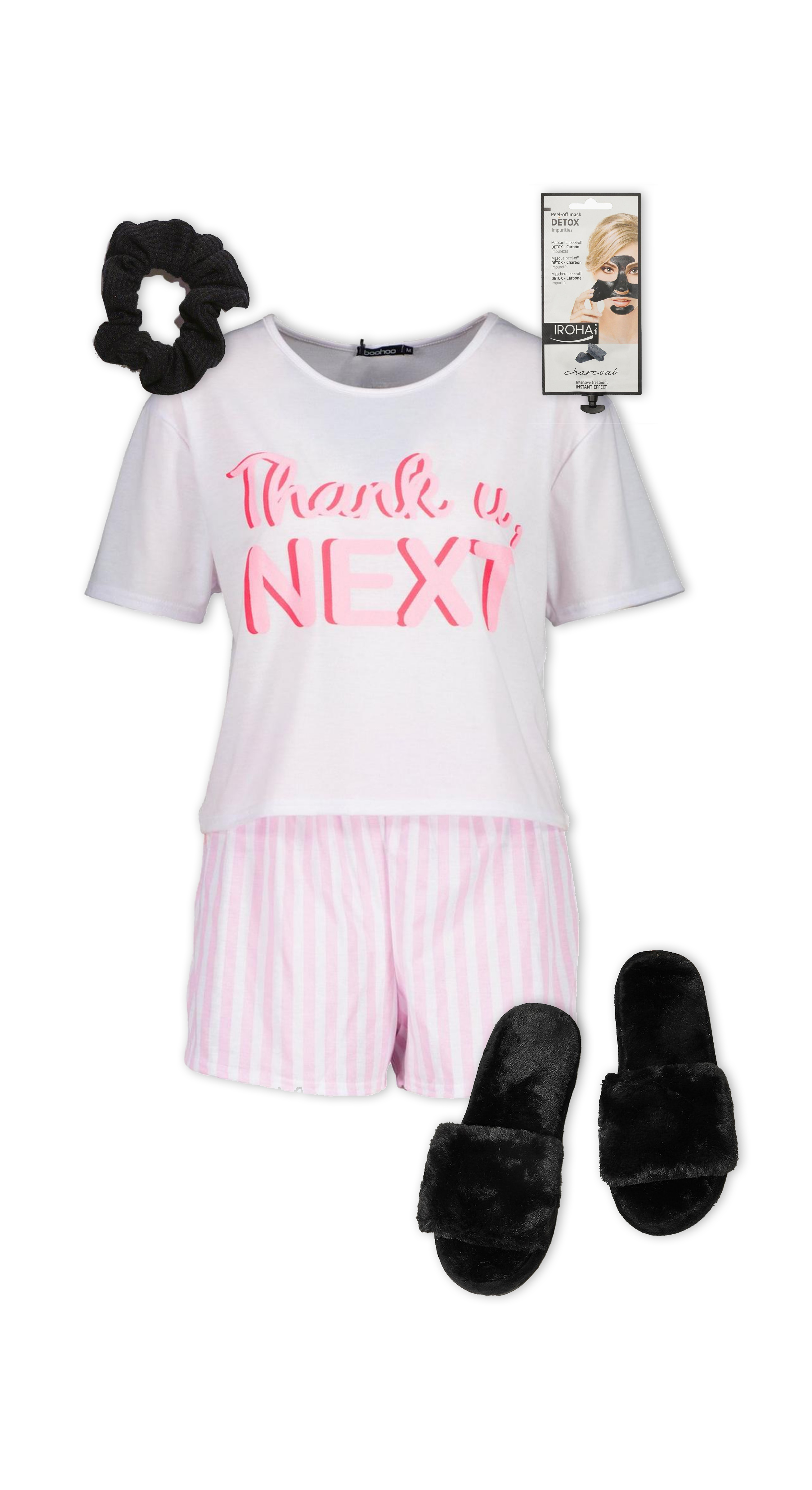 Last year I created a couple of night in looks and just had the best time doing it. I thought a nod to Ariana Grande's hit song "Thank U, Next" fit perfectly with Valentine's Day. Since this little pj short set was already on the girly side, I paired it with all black accessories to bring in a little more edge. You'll be so comfy cool in your black scrunchie and faux fur slippers. That wasn't enough accessories for me though so I added in a lovely charcoal face mask to pamper yourself with this Valentine's Day.
Shop the Look
Thank U Next PJ Short Set
3 Pack Scrunchie Set
Faux Fur Flat Slippers
Iroha Charcoal Detox Peel Off Face Mask
Outfit 3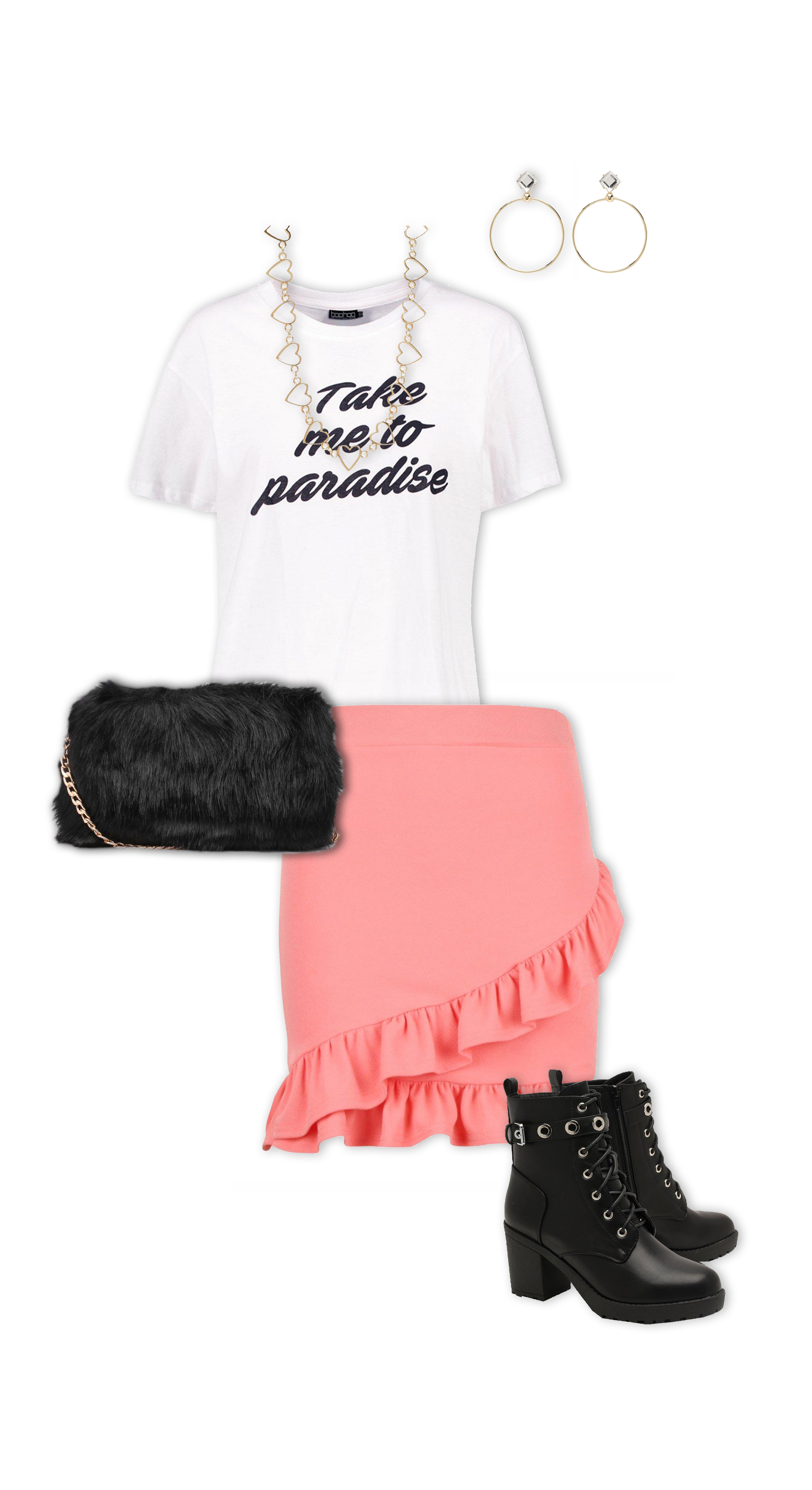 A pink ruffled skirt would seem like one of the girlier pieces out there but even it can be given an edge when paired with the right items. A slogan tee dresses the skirt down and makes it look much more casual cool. Throw in some black lace up boots with some studs and you are looking kick-ass! If the pink alone wasn't enough of a nod to Valentine's Day for you, I've added a metal heart necklace into the mix. This look is finished off with some hoop earrings and a faux fur cross body bag. This is just edgy valentine gold!
Shop the Look
Take Me to Paradise Slogan T-Shirt
Ruffle Hem Wrap Skirt
Chunky Lace Up Hiker Boots with Eyelets
Foldover Faux Fur Cross Body
Oversized Heart Link Necklace
Gem Stud Circle Earrings
Outfit 4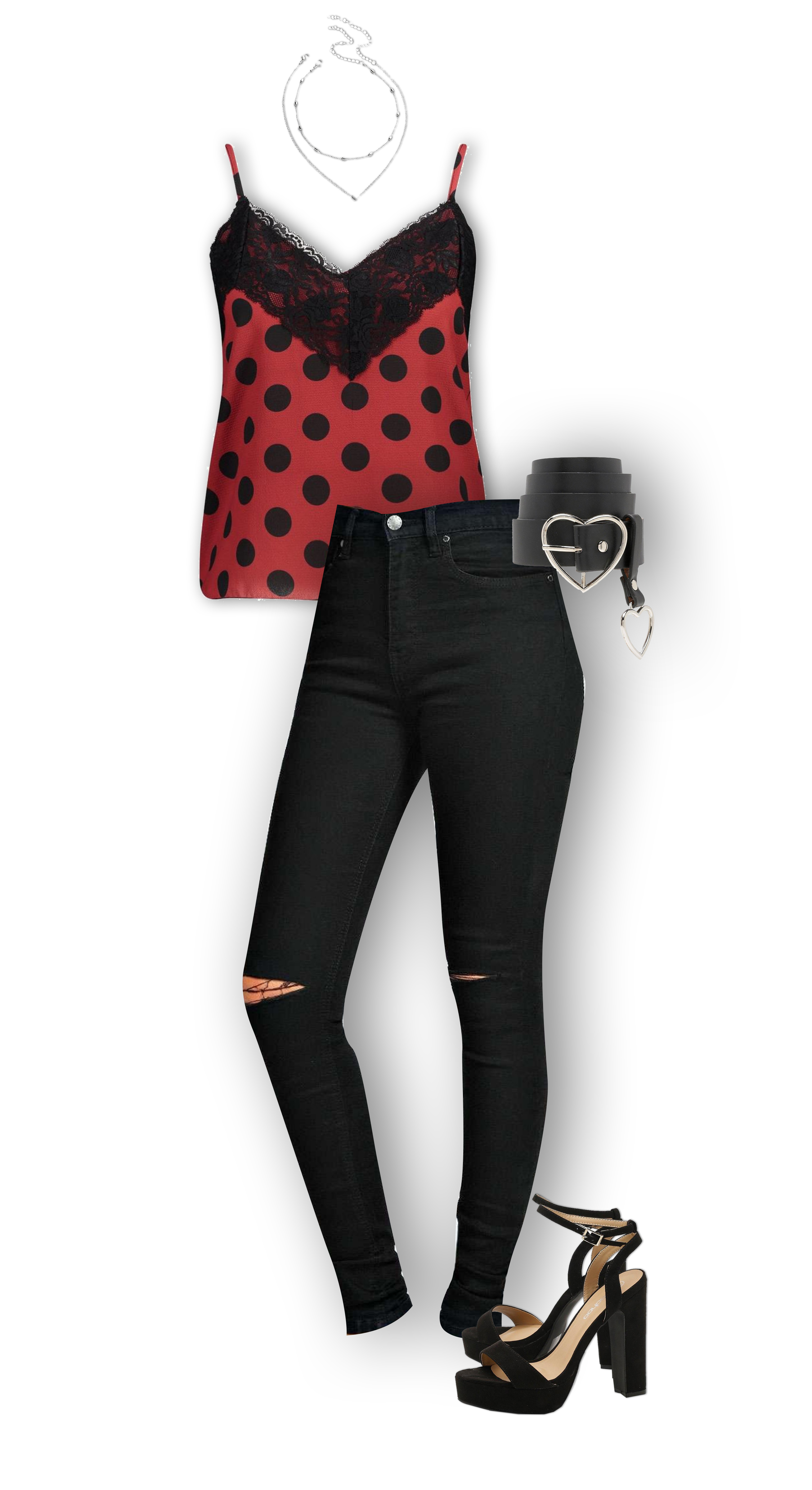 Last but not least, I found this gorgeous red and black polka dot camisole that I just knew I had to use in an outfit. It includes the required red shade for Valentine's Day but already has more of an edgy vibe. Paired with distressed black skinny jeans and chunky heels you can't go wrong. I couldn't resist adding in some more hearts so that's where the heart buckle belt and heart choker necklace set come in. They are the perfect accessories to tie it all together and really complete the look. I can envision a rocking night out at a concert or bar in this outfit!
Shop the Look
Polka Dot and Lace Trim Cami
Mid Rise Black Pocket Full Length Jeans
Wide Fit Two Part Platform Heels
Heart Buckle and Charm Detail Belt
Heart Pendant Chain Necklace with Beaded Choker
Which of the Edgy Valentine's Day outfits is your favourite? How will you be spending Valentine's Day this year? If you're looking for more Valentine's Day outfit inspiration then check out last year's post. Not only does it have stylish outfits but date night ideas too.. Hope you have a great Valentine's Day no matter how you spend it. 🙂