This post follows along in the Breakfast at Tiffany's Hens Day series. If you missed the first post you can find it here.
I thought I'd make a nice keepsake for the bride to be, to remember her bridal shower so I had everyone kiss around the border of a photo frame and leave some nice messages. I'd found variations on this on Pinterest but this is how mine turned out. It's easy enough to do and pretty self explanatory. I just bought a frame from a cheap shop and cut out my own border in some new card stock so that there was enough room for the kisses. The border was brought along with me on the day for everyone to kiss and made sure to tell them to bring their favourite lipstick in the invitation.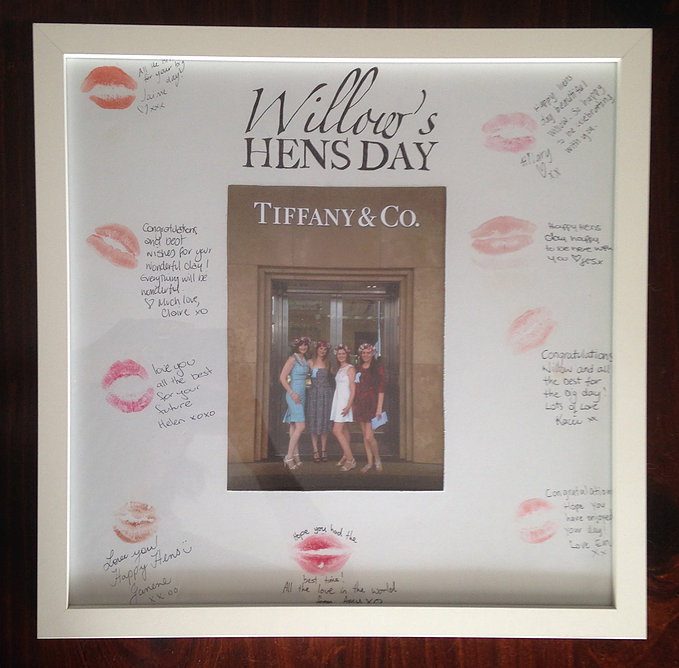 I had intended to use the photo with everyone in it but everyone left their mark in the wrong direction forcing me to use a vertical photo instead of a horizontal. Something I hadn't thought about at the time but when looking back I would definitely make sure to do the first kiss in the right direction so that people would follow the lead. Instead I did mine last and filled up the extra space at the bottom.
When I got home I sealed all the kiss prints in with hairspray. It turned out that there was some extra room at the top so I wrote out a title. I think it makes it look even better. I just printed out the words I wanted and traced around them with a pencil. Make sure to press the design into the matt to create an outline. Then filled it in with black pen. I printed the photo out later and put it all together. Viola! A beautiful keepsake for the bride to be.
Have a divine time darlings xx