I inherited this hinged coffee table with silverware from my grandparents when they passed away. It's really handy to be able to store the silverware inside the table but it didn't go with the interior décor in my lounge room at all and it was looking a little worn.  It took me a while to get motivated but eventually I decided that it was my next DIY project.

What you need:
A coffee/side table that needs re-jigging
Drop sheet (can use cardboard or newspaper etc.)
Masking tape
Sand paper/Sander
Vacuum and Cleaning Cloth
Paintbrushes
Paint (bought as a sample pot from Bunnings)
Chrome Spray Paint
Contact/Adhesive Paper
Squeegee or Ruler
Stanley knife/Art razor
Step 1:
Disassemble your Furniture. I was lucky because the legs of the table just twist off. I probably should have separated the lid but couldn't be bothered which meant that I made a few slips, which I quickly had to clean up. Most coffee and side tables are probably in one piece so this step may not apply.
Step 2:
Sand furniture with sandpaper. Since I was giving an old piece of furniture a new look I needed to sand off all the old stain. I got very tired of doing this by hand very quickly and ended up going and buying a small sander from Bunnings. After sanding make sure you vacuum up all the dust, wipe down with a cloth to get rid of it all then dry the surface before painting.
I paid particular attention to the feet of table, which started out looking an ugly somewhat rusty gold. I am a silver person. Gold does not exist in my house including jewellery so I had to change the gold. After sanding away the rust though I discovered that the feet were in fact silver. Advice from my dad though told me to paint it with chrome paint otherwise it would rust again.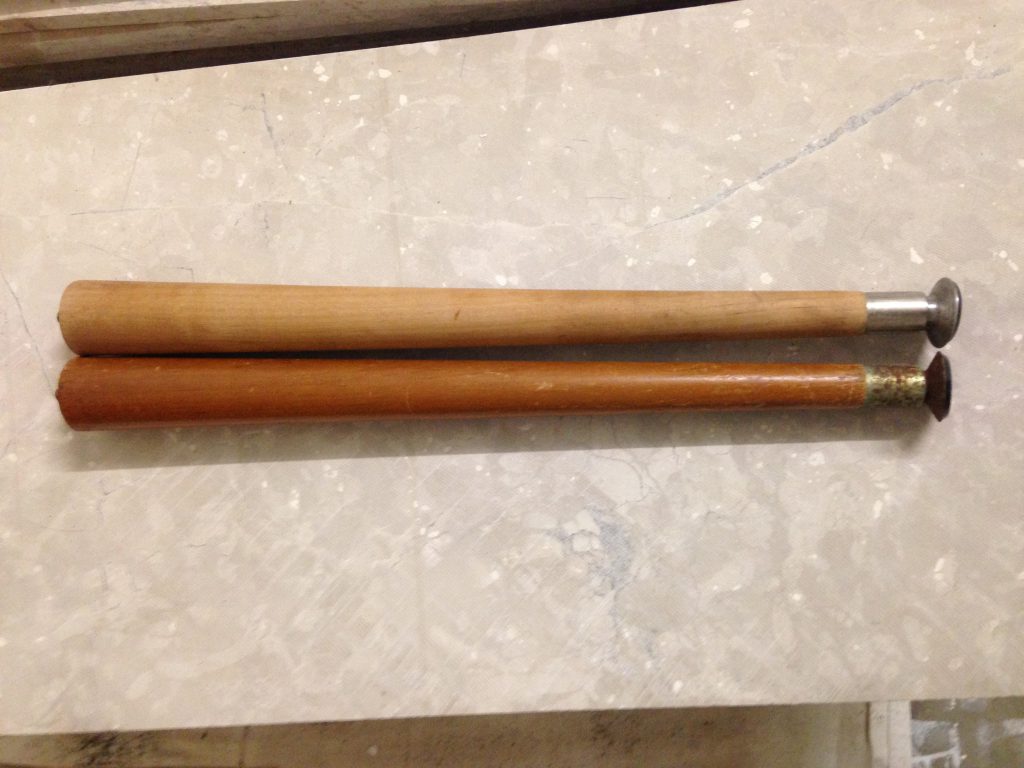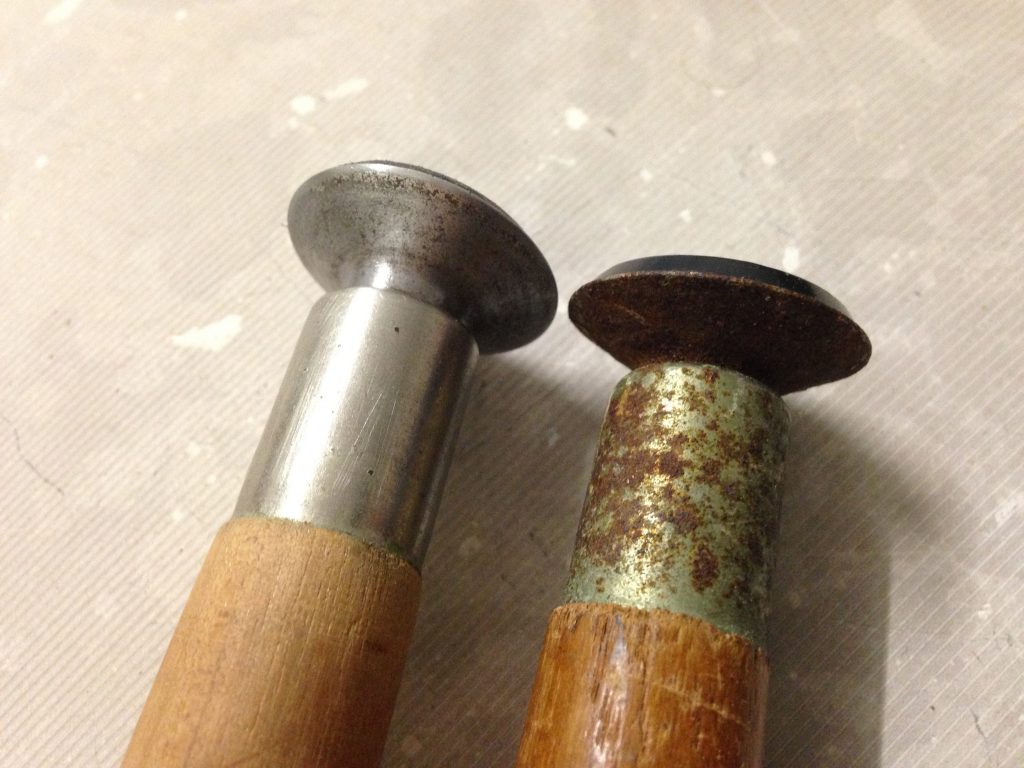 Step 3:
Wrap Feet with Masking Tape and Spray Paint. Protect the wood from being spray painted with a layer of masking tape then take outside and give the feet a quick spray. Once dry which was fairly quickly because it was a very sunny day, remove the masking tape.
Step 4:
Paint the Rest of the Furniture. Start painting the coffee table. Use your discretion as to how many coats you want to do to create the finish you want. I was careful not to taint the silver feet.
Step 5:
Reassemble Furniture. When the paint is thoroughly dry you can put the table back together if needed.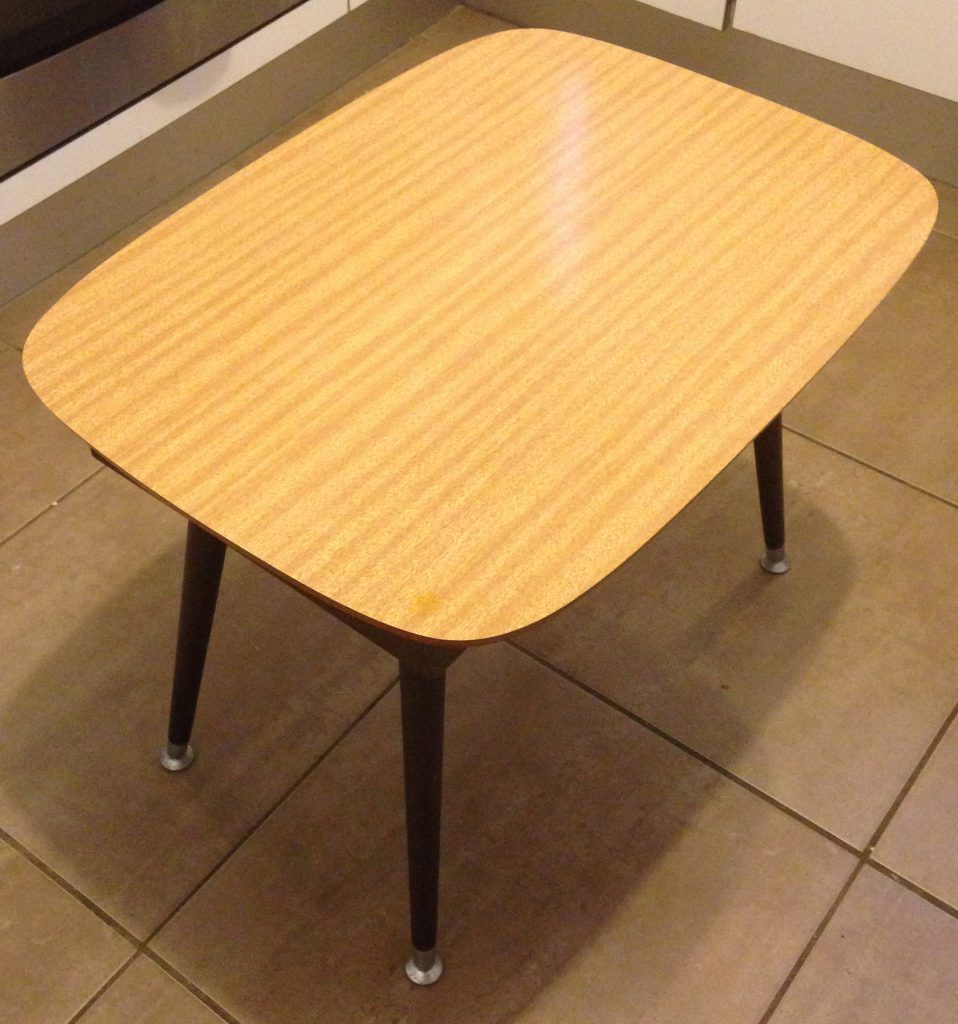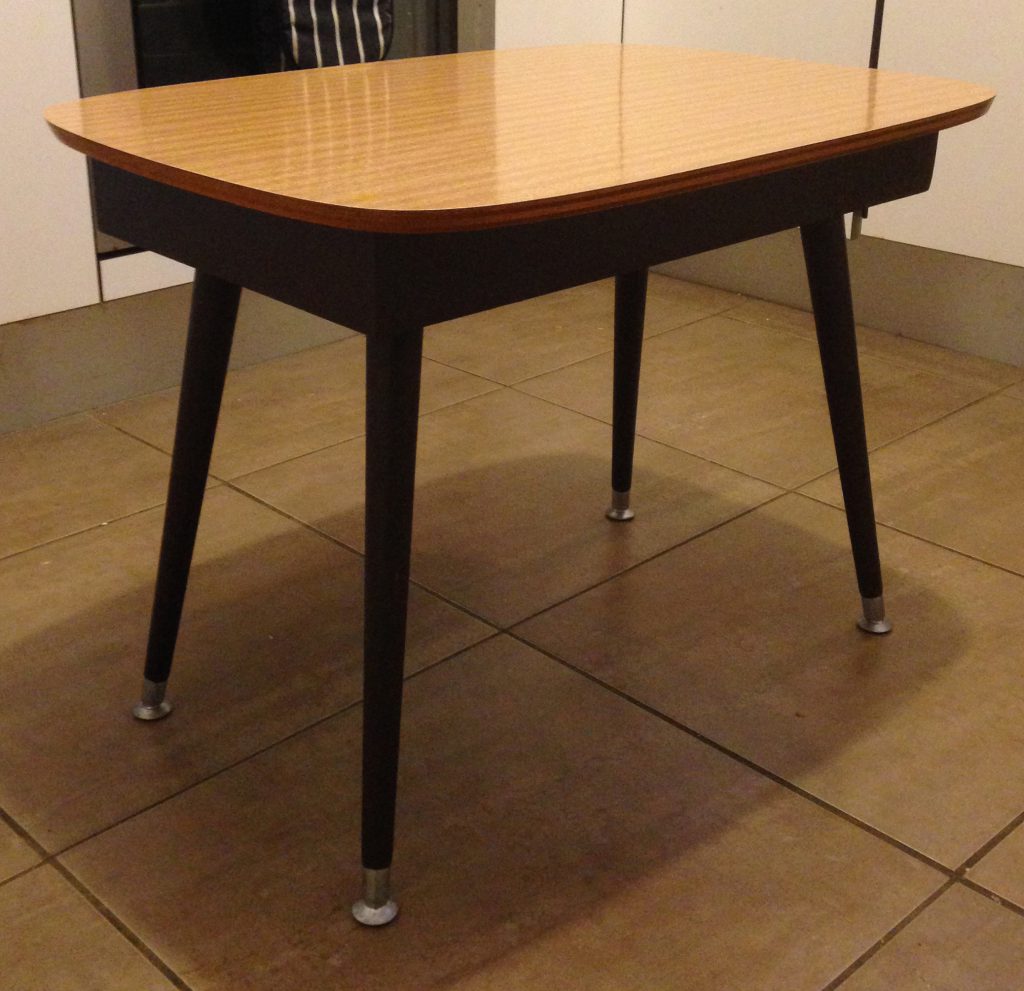 At this point I thought I had done as much DIY as I could to make it fit my colour theme and décor.  I didn't think I could paint the top so that limited my options. Then I came up with the idea of using contact paper on it. I researched contact paper thoroughly starting off with beige marble but I ended up choosing a chevron pattern.
Step 6:
Apply Contact Paper. Cut roughly to size. Remove backing and line up one end of paper to the table. Smooth on with a squeegee to get rid of any bubbles. This is definitely the hardest bit! I thought that a ruler would suffice but sadly it just does not do it. I have a few bubbles and wrinkles that I can't get rid of. A baking scraper works better than a ruler, I found out but still not as good as a squeegee. So if you are attempting this make sure to buy one.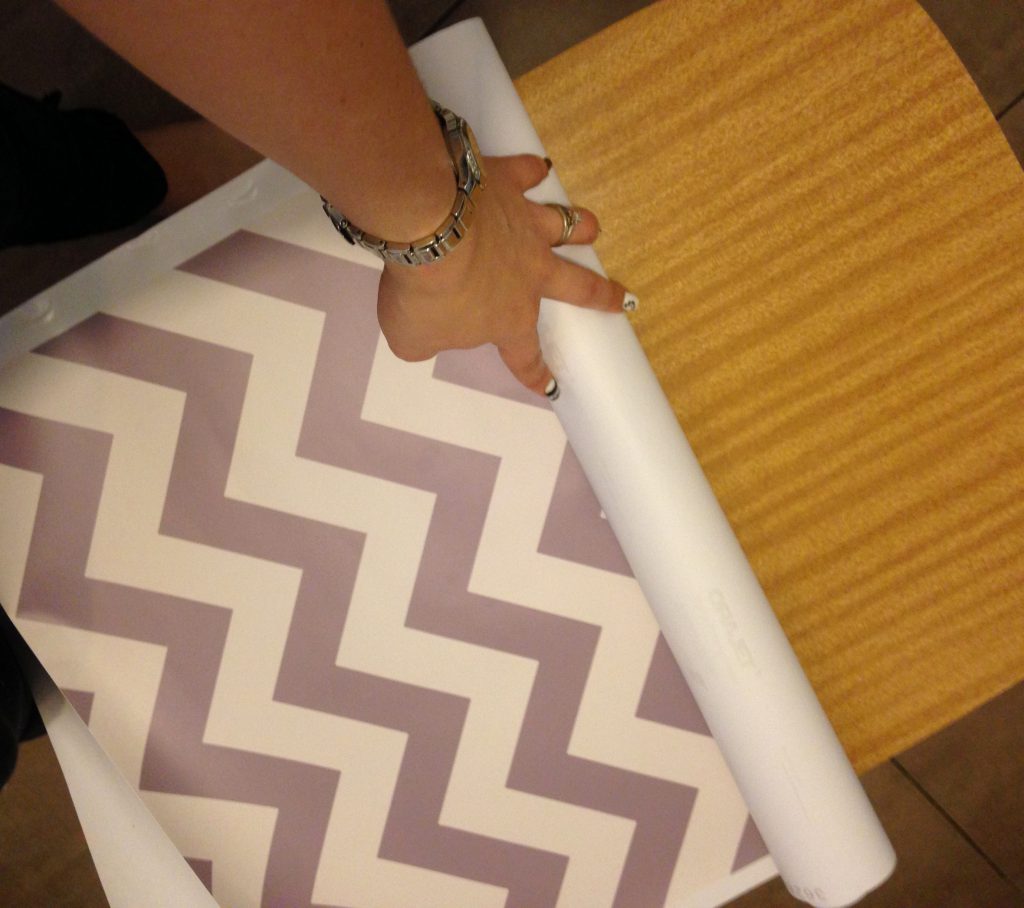 Step 7:
Trim Edges of Contact Paper. This was much easier than I thought it would be. I used an art razor and leaned it against the sides. It glided through and gave a great, clean edge.

All up I paid:
Coffee Table = Free
Ryobi Sander = $49
British Paints 500ml Brown Paint = $12.50
Chevron Contact Paper = $58.79
Chrome Spray Paint = Borrowed
Total: $120.29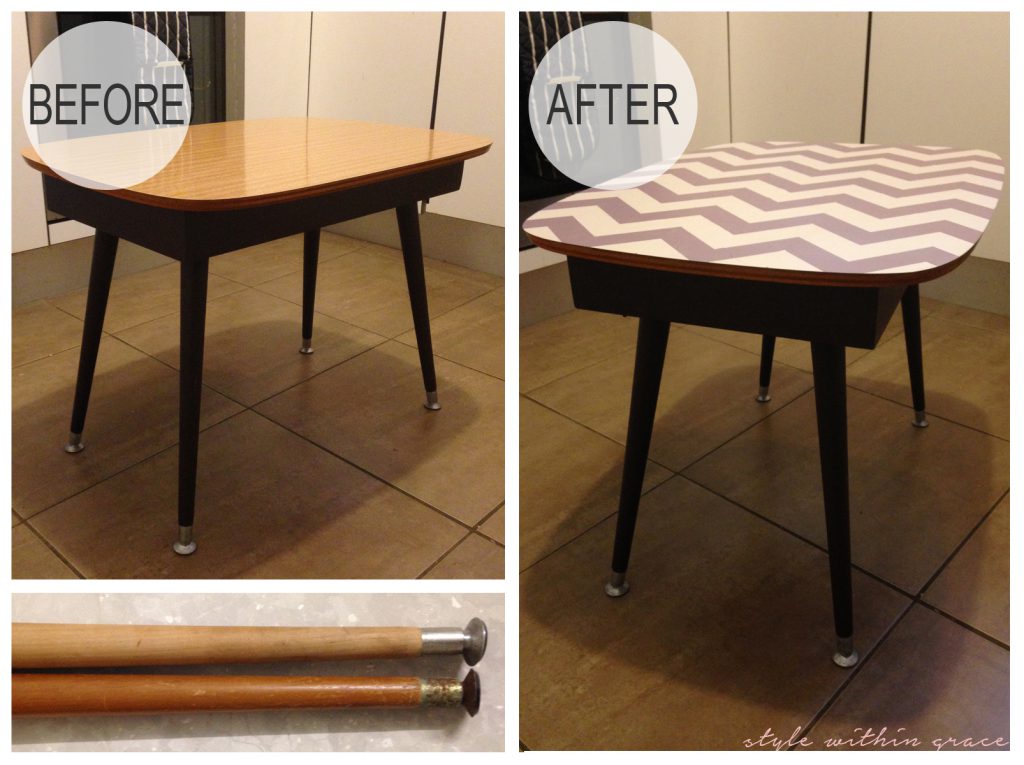 I could have gotten contact paper a lot cheaper but I was very picky as to the colours and patterns I wanted. There is still a fair bit of contact paper leftover so I plan to find another project to use it up with. I bought my contact paper from Etsy. This table has turned out just how I wanted it too. Now it not only fits with my colour theme but it's a feature piece in my lounge. Check out some of my other DIY furniture up cycles like my Alphabet Side Tables.